Scorrano - Sunday, July 5, 2016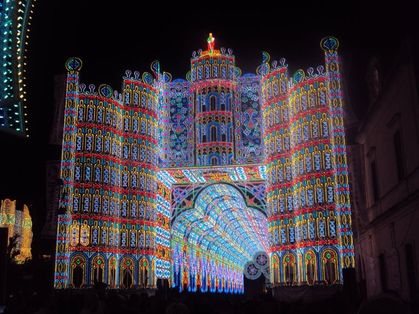 You say illuminations and immediately you can think of the patronal feast of Santa Domenica in Scorrano which takes place between June 5 and 10 every year.
The tradition of illuminations, which has ancient origins in Scorrano documented by a chronicle of the mid-1500s, has been renewed by combining the classic style with technological innovation.
Here you can find a wide range of decorations from wood combined with the light of torches, candles of oil, the oil to electric light.
Today illuminations are present with their traditional appearance, but they explode in a fire of light thanks to LED lamps, computer, laser and three-dimensionality. The performance of the play of light is intertwined with music and fireworks, regulated by control units, creating a fantastic atmosphere.
Scorrano provides three of the most famous companies in the sector that bring this art of southern Italy around the world each year.
On the official website of the Association, www.santadomenicascorrano.it, information and videos can be found on the festival.
Also this year, in the course of an established custom, the illuminations will be presented with exclusive innovations ensuring that the expectations of Italian and foreign visitors are satisfied.
Source: Lecc'èdafare
---