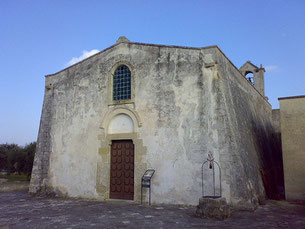 The town of Melendugno, located inland in the south-east of Lecce, at 36 m above the sea level and is 6.5 km from the Adriatic coast.
Melendugno includes six villages: Borgagne, Roca Vecchia (home of significant archaeological excavations), San Foca, Torre Specchia, Torre dell'Orso and Torre Sant'Andrea.
In 2011 the marine at Melendugno reconfirmed the Blue Flag award.
It overlooks the sea with a coastline of over 15 km between Mirror Tower, in the north, and Tower of Sant' Andrea, in the south.
The coast, characterized by beaches, bays, dunes and creeks in succession, by the presence of food in the northern islets and rocks in the south, has large areas of pine woods and several shrub species of the Mediterranean.
From the coast melendugnese sometimes you can see with the naked eye the island of Saseno and the mountains of Albania.
The first human presence in the area seems to be traced back to the Bronze Age, their testimony is linked to the dolmen called Placa and Gurgulante provided with a slab of coverage of almost seven meters of perimeter.
The Normans in the ninth century did the real development of the city center.
During the Norman presence, Byzantine monks settled in the territory by building crypts and abbeys and developing agriculture and literature.
A Melendugno founded the Abbey of St. Nicetas, the remains of which are represented by the small church located near the cemetery.
What to see in Melendugno:
• The trulli "furnieddhi"
• Castello D'Amelj
• Abbey of St. Nicetas
• Sites of natural interest
On 15 and 16 September civil and religious celebrations are held in honor of the patron saint St. Nicetas.
---