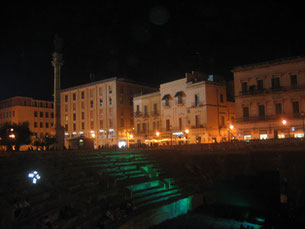 "Lecce may be called the Florence of the Baroque. In this artistic trend
there is nothing in Italy that you can compare with it. »
Lecce, which is the capital and the largest cultural center of the Salento peninsula, the seat of the archdiocese and the University of Salento, is located 11 km from the Adriatic coast and 23 km from the Ionian.
It is the capital of the easternmost province of Italy. Being active in the sectors of the agricultural industry (oil, wine), ceramics, paper mache and cultural tourism, Lecce can be also proud of its limestone which is malleable and very suitable for working with chisel.
Lecce is called the Florence of the South because of its beautiful baroque monument. 
TIP: have a walk, take your bike or the classic train through the streets of the old town and admire the churches, palaces and squares that will welcome you with their colors, sounds, tastes. In this regard, it is a ritual to stop at bakeries and cafés to enjoy the classic pasticciotto, the rustico or a good coffee.
A journey must embrace the senses ... so go for them!!! And if you want to visit the sea... just a few kilometers divide you from the immense blue.
---