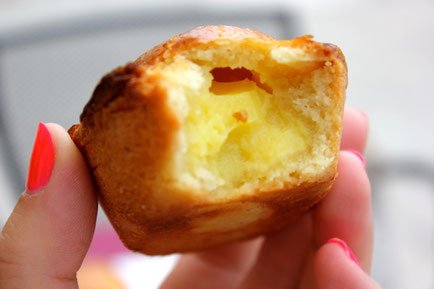 A heavenly lemon custard filled pie, this delectable pastry is widely consumed in Lecce the capital of Salento.
Best eaten straight out of the oven whilst still warm, a breakfast treat in England, but somewhat of the norm for Italians. If colazione is on the menu, a sweet pastry and coffee is how to start your day over there. If only that was accepted here in the UK – muesli it is then.
They don't last long when I make them at home. I find myself grabbing one to eat on the way to work (too often) and Murray adds one to his daily coffee routine. I'm looking forward to this year's trip to Salento where many a pasticciotto will be scoffed for breakfast.
Difficulty: Medium
Time: 120 min
Portions: 8-10
Crema Pasticcera:
3tbsp Flour
3tbsp Sugar
2 Egg yolks
500ml Milk
Zest of 1 lemon
Shortcrust Pastry:
500g Plain flour
200g Butter (softened)
200g Sugar
2 Egg yolks
8g Yeast
4tbsp Water
Preparation:
Make the custard – Put the flour, sugar and egg yolks into a bowl and mix with a balloon whisk.
Slowly add the milk, mixing with balloon whisk each time you add more to unsure you get no lumps.
Add the zest of a whole lemon.
Pour the mixture into a saucepan and heat slowly, stirring all the time until the custard has thickened. Once it's starts to boil turn off the heat. Allow to cool.
Make the pastry – Place the flour in a large bowl, along with the yeast, butter and sugar.
With an electric whisk mix until it turns into a crumb.
Crack two egg yolks into a glass and add 4 tbsp of ice cold water. Give a little mix with a fork.
Make a well and pour into the middle of the crumb. Start bringing the pastry together using your hands.
Once it's come together a little you can start kneading it. The pastry is very short and crumbly. Knead it for at least 5 minutes until it is smooth.
Roll into two sausage shapes approximately 3 inches in diameter.
Cut approximately 1 inch of pastry from the sausage shape with a knife and roll into an oval. Gently push into the pasticciotto tin, leaving a bit of the pastry overlapping. Continue to do this until you've used one of the sausage shapes or you've lined all your tins. (8 to 10 tins in total)
Fill the pastry with a generous amount of custard, until it is level with the top of the tin.
Roll out another oval shape of pastry for the top of your pie. Lay it on top and pick up the tin. Using your thumb, push down along the edge of the tin so that the top and bottom layers stick together, letting the excess pastry fall down. Run your fingers along the edge to form a mound in the middle of your pasticciotto.
Brush with egg white and place in the oven for 20 minutes until golden brown.
(Fonte http://www.mangiabeneblog.com/)