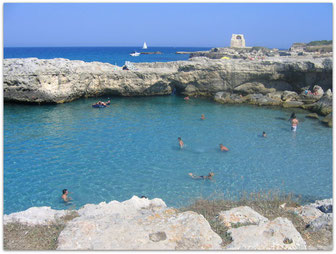 Roca Vecchia is a coastal village of Salento and Melendugno, in the province of Lecce.
It overlooks the Adriatic Sea and is located between San Foca and Torre dell'Orso.
The site of important archaeological excavations is a tourist center of relief during the summer.
The ruins of the castle, signals of the watchtower century, overlook the sea with the shrine of Our Lady of Roca from the seventeenth century.
By swimming or with a small boat you can visit and explore numerous caves, which are full of charm and history.
The north of the archaeological center is currently inhabited, also known as Roca them places, frequented by vacationers in the summer especially residents in the neighboring countries.
Along the road from Torre dell'Orso Melendugno there is an old deserted village, a fortified farm called New Roca. This village was built around 1480, when the population of Roca Vecchia was put to flight by the Turkish raids.
By hiking, swimming and chatting with the locals you will discover enchanted creeks as the so-called "Portuligno", "Queen's Bath", "Nfocaciucci".
---